Imager for Magnetopause- to-Aurora Global Exploration
(IMAGE)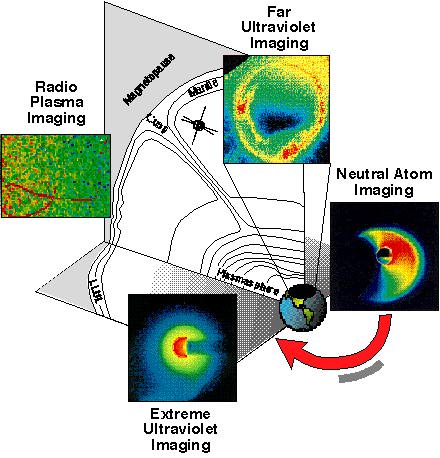 A proposal submitted to the National Aeronautics
and Space Administration
in response to AO-95-OSS-02
June 27, 1995
Principal Investigator: Dr. J. L. Burch
Southwest Research Institute
San Antonio, TX 78228-0510

The IMAGE team is composed of a number of U.S. and foreign investigators.
Medium - Class Explorer (MIDEX)
Investigation Summary Form
---
IMAGER FOR MAGNETOPAUSE-TO- AURORA GLOBAL EXPLORATION
(IMAGE)
ABSTRACT:
The Imager for Magnetopause-to-Aurora Global Exploration (IMAGE) investigation will use neutral atom, ultraviolet, and radio imaging techniques to (1) identify the method of entry of solar wind plasma into the magnetosphere; (2) determine the extent and location of ionospheric plasma sources; (3) discover how and where energetic plasmas are accelerated, transported, and lost during substorms and magnetic storms; (4) determine the direct effects of solar wind forcing on the magnetosphere; and (5) measure CME-related neutral atom fluxes and radio emissions as forecasting tools for geomagnetic storms. The IMAGE instrument package consists of low-, medium-, and high-energy neutral atom imagers, extreme ultraviolet and far ultraviolet imagers, and a radio plasma imager.
The IMAGE spacecraft will be placed into a 500 km x 7 RE altitude orbit with an inclination of 90deg.. The spacecraft will be provided by GSFC. It is based on the FAST design and uses off-the-shelf components. The GSFC/Resource Analysis Office estimate for the instruments is $32.2 M (without contingency). The IMAGE mission represents a very low risk MIDEX with very high scientific payoff. It complies with all MIDEX requirements for spacecraft resources (mass, power, and data rate), mission schedule, mission costs and contingencies.
---
TOTAL MO&DA BUDGET: $14.93 M
TOTAL BUDGET AMOUNT (EXCLUDING MO&DA)*
$31.46 M (10-mo. def.) (w/o contingency)
$31.86 M (22-mo. def.) (w/o contingency)
*foreign contribution of $1.84 M not included in these amounts

---
Table of Contents for the STEP 1 Science Proposal
---
Table of Contents for the STEP 2 Technical Proposal
---
POETRY section of the STEP 2 Management Proposal