---
The IMAGE Monthly Camera
October 1998 - Number 9
---
Editor: J. L. Burch

SwRI, P.O. Drawer 28510
San Antonio, TX 78228-0510
tel: (210) 522-2526
e-mail: jburch@swri.edu
---
Contents
- Recent Activities
- Upcoming Events
- Other Items
---
Instrument and spacecraft fabrication activities are progressing well, and the project is on schedule for a January 1, 2000 launch. We still hold a two-month mission reserve.


Pre-environmental test reviews have been held successfully on FUV, CIDP, SCU, EUV, RPI, and MENA.

The first meeting of the Mission Operations Working Group was held on September 23rd and 24th at LMMS. During this meeting details of the initial orbital checkout were finalized. This information will be available in the meeting minutes, which will be available on Frio soon.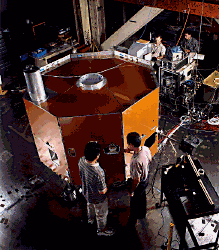 The picture shows the IMAGE spacecraft in the LMMS modal survey facility. As a result of the modal survey, struts will be added between the -z cylinder and the deck plate in order to raise the axial-mode frequency above the recommended 35 Hz. The spacecraft has since been disassembled, and the solar arrays are being installed. The next time the spacecraft will be completely reassembled will be in December 1998. In the meantime, work is progressing on installing the deck-plate heaters and on completing fabrication and test of all spacecraft subsystems and in completing the flight software.



An enhancement to the sun sensor is being implemented to provide a backup attitude determination system. While the primary star camera system will meet the IMAGE specification of <0.1 degree, the enhanced sun sensor will provide attitude knowledge of <0.5 degree.

Here is the revised list of IMAGE meeting dates and places:

The HENA and LENA pre-environmental reviews will be held on October 15 and November 23 at APL and GSFC, respectively.

The next theory/modeling and data meeting will be held at GSFC, Bldg. 26, Room 105 from 8:30 AM on November 4 until noon on November 5. Jim Green and Rick Burley are the GSFC contacts for the meeting. Dennis Gallagher is responsible for the agenda. Topics for the next meeting will include science operations plans and the generation of level 0, level 0.5 and level 1 data products.
We have completed negotiations for a special issue of Space Science Reviews with a simultaneously published hard-cover monograph on the IMAGE mission. The publication date will be in November 1999.

Please send any items for the Monthly Camera to the editor. Pictures of IMAGE activities are especially welcome.

---
Return to the IMAGE Camera Index